RECORDINGS
The natural sound of instruments and environment is preserved digitally by Heinz Pfennig, who worked with the artists at every stage of these CDs. Extensive experimentation with high output tube-type Neumann microphones in the classic ORTF configuration captures the fine nuances of the violin while preserving the broad and richly varied tapestry of the organ.

"Your violin and organ recordings are just delicious."
- Thadeusz Wronski, Rector, Warsaw Conservatory
---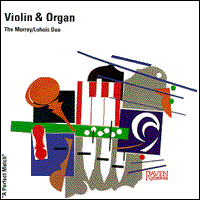 Violin and Organ
Volume I: Works for Violin and Organ

he Murray/Lohuis Duo perform musical compositions from Rheinberger, Stanley, and Bender among others. Several were recorded at St. Paul's Episcopal Church in Winston-Salem, North Carolina, on a 1929 E. M. Skinner organ, Opus 712. Other works were recorded at St. Stephen's Episcopal Church in Richmond, Virginia, on a 1951/1968 Aeolian-Skinner organ, Opus 1110 and 1110B.
The violin heard in this recording was made by Carlo Bergonzi in 1729. The tone of the violin is typical of Bergonzi - carrying and brilliant, yet liquid and mellow. Two different bows were used to add varying depths of sound.



"The choice, arrangement, and performance of the repertoire are quite simply superb."
- Dietrich Bartel, The Diapason
---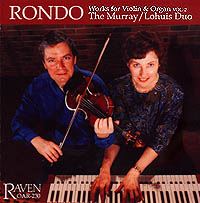 Rondo
Volume II: Works for Violin and Organ

ollowing in the tradition of the first recording, Murray and Lohuis perform classical music written by 19th and 20th century composers. The title "Rondo" is a style of composition that has multiple sections, with the first section recurring after each new section is introduced. Several compositions on this recording are written in this form.
Two selections heard on this recording are played on an 1893 Woodberry & Harris organ at the First Presbyterian Church at Waynesboro, Virginia. Other works are performed on a 1968 Aeolian-Skinner organ located at the First Presbyterian Church in Kinston, North Carolina.
Composers on this CD include Arthur Foote, Jan Bender and Leo Sowerby.


"Special recommendation for this fine recording."
- Vernon Gotwals, American Organist
---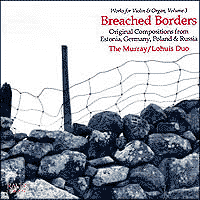 Breached Borders
Volume III: Works for Violin and Organ

his compilation represents a break from the traditional repertoire for these artists. Murray and Lohuis decided to explore how political borders often engender cultural barriers at various times throughout history. They turned to the tremendous amount of musical creativity that took place behind what for many years was known as the "Iron Curtain."
Pipe organs were introduced to Russia as early as the 10th century. While the Russian Orthodox religion has no place for them, organs have been installed in concert halls, palaces, and churches of other denominations.
The noted musicologist Dika Newlin comments: "Russia's 'troublous times' of the 1920's, 30's and 40's were an age of turmoil in politics, music, and indeed in all the arts." Breaching these borders through music, Murray and Lohuis discovered many works, which have previously been unavailable to the Western world. Some of their favorites are offered on this album.
Of the composers heard on this recording, only one has lived outside the Soviet sphere, and that while his native land was afflicted by continuing geo-political border conflict. The recording includes original compositions from Estonia, Germany, Poland and Russia.
Lohuis performs on a 1993 W. Walker and Sons organ, Op. 123, located at the First Presbyterian Church in Norfolk, Virginia, and a 1951/1968 Aeolian-Skinner organ, Op. 1110, housed at St. Stephen's Episcopal Church in Richmond, Virginia.
Selections Total time: 77:12

"To discover the lost musical treasures of Eastern European
music from the last century... start with this recording."
- John L. Speller, The Diapason
---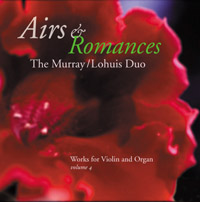 Airs & Romances
Volume IV: Works for Violin and Organ

n the decades just before and after 1900 many composers were attracted to the sonorous possibilities of violin and organ in ensemble. "Airs and Romances" draws primarily from the substantial repertory of expressive and tuneful compositions by composers who were greatly admired in their own time. Many were violinists of renown who were also successful composers, conductors, and composition professors at prestigious conservatories. Organists then and now have also written for this combination of instruments which has renewed popularity because of the performances and extensive research by The Murray/Lohuis Duo.
Violin and organ printed scores, newly edited by the Murray/Lohuis Duo, now available exclusively via the Organ Historical Society:
- "Invocation" by Amy Beach
- Suite de pieces pour violon et orgue, Op. 3 by Samuel Coleridge-Taylor
Selections Total time: 69:12

"And the music flows and flows and flows."
- Joseph Magil, American Record Guide
---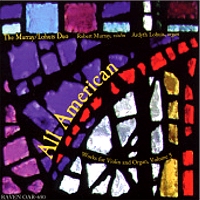 All American
Volume V: Works for Violin and Organ

his new release presents the first commercial violin and organ recording of twelve intriguing works composed in the United States during the twentieth century. Although three of the composers are not native-born Americans, all resided in this country at the time their works were written. The disc encompasses a wider meaning for "All American" as Mathews is Canadian by birth and Derek Healey's engaging set uses well-known melodies from Mexico and Nicaragua.
The organs are both in Richmond, Virginia: the 1954 Austin, op. 2218, with tonal revisions by Guzowski & Steppe in 1991 at Reveille United Methodist Church, and the 1951/68 Aeolian-Skinner op. 1110 at St. Stephen's Episcopal Church.
Selections Total time: 78:09

"A fine musical treat, beautifully and tastefully performed by two consummate artists."
- Donald E. Metz, American Record Guide